The Group regards its employees as its most valuable assets, and their contributions are very important to the success of the Group. Therefore, the Group strictly abides by the laws and regulations related to employment, labour standards, human rights, benefits and those on remuneration and dismissal in the places where it operates. The Group also constantly improves the human resources management system in terms of attracting talents, development and training, and health and safety.
ENSURE EMPLOYEE BENEFIT
The Group provides Housing Provident Fund, Mandatory Provident Fund, basic pension insurance, basic medical insurance, maternity insurance, work injury insurance, unemployment insurance and other social insurance for employees in strict compliance with the national and regional requirements in the countries and regions where it operates. Besides, in addition to the paid annual leaves required by the laws of the countries and regions where it operates, the Group provides employees with various type of leave including marriage leave, funeral leave, prenatal examination leave, maternity leave, leave in lieu, paternity leave, birthday leave, care leave and examination leave. Apart from statutory benefits, we also provide our employees with different types of allowances including communication allowance, meal allowance, transport allowance, relocation allowance and high-temperature allowance.
The Group was awarded the label of "Caring Company" issued by the Hong Kong Council of Social Service for the ninth consecutive year, reflecting the industry's wide recognition of the group's care to employees.
EMPLOYEE TRAINING AND DEVELOPMENT
"Talents and culture are the most valuable assets" is the core idea of the Group. We are committed to "cultivating talents" and "deploying talents" in order, to allow employees develop in a harmonious and stable working environment that provides abundant development and professional training. Meanwhile, we are also committed to encouraging employees to seek learning and development opportunities and regard vocational education and training of talents as the top priority.
The Group organized a series of training to align the rationale and core value of employees with those of the Group:
Enhance training related to sustainable development, such as corporate social responsibility and environment, onsite waste management, tailor-made professional training, etc.
Provide online training platform and subsidies to employees and encourage them to carry out self-learning
Provide anti-corruption training to employees each year
OCCUPATIONAL HEALTH AND SAFETY
With "Safety First and Prevention Matters" as the fundamental principle, the Group formulates safety measures and guidelines for each sector. For example, the "Safety and Health Management Procedures for Facade Business", "Occupational Hygiene Management system of Shenyang Huanggu Thermoelectricity Co. Ltd" and etc., regulating in detail the protection and management measures during the production process. The Group also pays attention to the physical and mental health of employees, actively participates in various health charters and improves the company's resilience.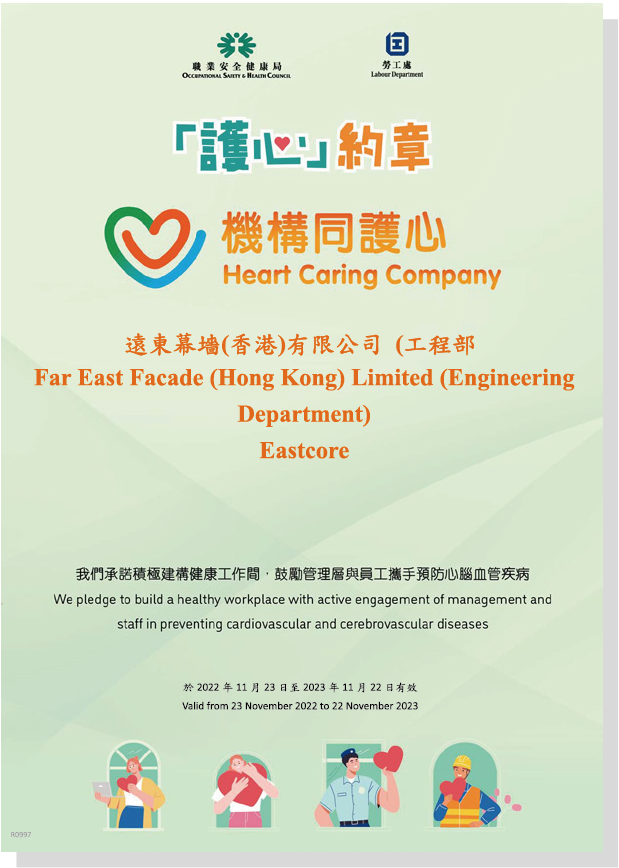 SAFETY TRAINING
The Group set a goal in 2022 to provide at least one staff safety training for relevant staff, and to ensure that all outsourced workers have underdone compulsory safety training before they are inducted. In 2022, the Group also held the commencement ceremony for "Safety Production Month" with a theme of "complying with safety production law and be a good first responsible person".