The Group has established a leading group on technological work and a design and R&D team to promote the development and application of new technologies.
BIM Technology
Building Information Modelling (BIM) Technology draws on various data of construction projects as basis and uses computer-aided tools to build three-dimensional building models, creating digital simulations of buildings faithful to genuine data.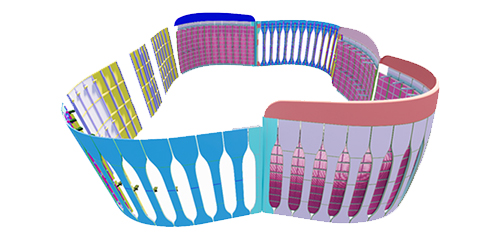 A BIM Working Group has been set up under the Design Department to work on the technology and deeply explore its application. Currently, a large number of projects undertaken by the Group have applied BIM in Hong Kong projects such as Kai Tak Airside, Seymour Road project in Mid-levels, Taikoo Place Phase 2B, , and Murray Road project in Central, and overseas projects like Empire Landmark, One Bloor, etc.
Rendering of the Murray Road project in Central, Hong Kong
The Murray Road project in Central, Hong Kong is a typical case of very complex facade design. The facade of the project uses unit glass facade, which involve nearly 3,000 flat, single-curved, hyperbolic and conical glass facade units, and about 60% of the units are complex curved surfaces. Therefore, the Group applied BIM technology to establish and analyse the conceptual model, approximate geometric model, precise geometric model, manufacturing model and as-built model of the project, successfully completing the design of a 3D hyperbolic curtain wall. In addition, the Group also uses a 3D laser scanner to create a field model for comparison with the BIM model, and adjust construction components accordingly.
Intelligent Factory
Far East (Zhuhai) is committed to building an intelligent production base and applying intelligent manufacturing techniques in entire production process of facades, driving technological innovation and development in the industry.
High-tech Bending Workshop
The bending workshop of Far East (Zhuhai)'s intelligent factory is a leading facade aluminium bending workshop in China, which is equipped with advanced aluminium bending equipment such as imported CNC roll benders, bending machines, plate processing centres, CNC lathes and flexibility inspection platforms. In addition, the workshop is also equipped with a specific 3D scanning system for the bending and processing quality inspection of the bended aluminium so as to ensure the product quality.
Far East (Zhuhai) has the second 70-tonne imported roll bender in China, which adopts a 14-axis linkage high-precision service system and a 70-tonne hydraulic controller and is equipped with a laser radius inspection system and a laser positioning and marking system, which is able to display hydraulic control and displacement figures simultaneously. In addition, the machine is equipped with dual-sided digital control pallets and a twist correction device to further ensure the quality of the machined double curved formed parts.
Automated Processing Workshop
The automated bracket workshop at the intellectual factory of Far East (Zhuhai) successfully performs automated cutting, milling, drilling and tapping, sawing and stamping processes of brackets by introducing robots and CNC machines. Moreover, production efficiency is boosted with the Automatic Guided Vehicle ("AGV") system.
The average weight of aluminium materials processed in this workshop amounts to more than 200 tonnes per quarter, which is twice the output before the transformation of workshop. The material AGV system has two AGVs that transport materials to designated stations automatically, leading to a sharp increase in efficiency compared to manual transportation.
Push-in Installation for Unit Facades
Traditional glass facade is installed outside the building through external hanging units and frame units. It is constrained by extreme weather with high safety risks, low efficiency, and more material consumed.
Standardised procedures

When designing facade, the width of facade units is determined by the unit width of the construction structure; curtain wall units are manufactured and transported in standardised procedures to ensure pre-defined installation procedures are duly followed.

Reliable quality

Standardise construction procedures and strictly organise the management, as well as forming a quality team with quality as the core aim and collaborating the whole chain from the design, procurement to construction, in order to ensure the project quality.

Improved safety

Outdoor work at height is replaced by indoor installation. Moreover, we ensure the standardisation of components, professionalism of workers, and standardisation of procedures to reduce construction safety risks.

Contribute to green construction

Prefabricated units and integrated on-site installation help avoid the on-site processing, significantly reducing construction waste and scrap, saving water, and alleviating noise and dust pollution, showing obvious environmental advantages.
Application Example:
During the Reporting Period, the Group innovatively adopted the push-in system for unit facade in high-rise buildings in the Shenzhen International Hotel project. The push-in system revolutionised the traditional top-down and anti-clockwise installation sequence and ensured simultaneity between external wall installation and main structure construction, shortening construction period significantly. Despite facing challenges such as tight schedule and large project scale, we managed to deliver the project successfully by virtue of the new technique.